OPS Air Force is a program where cadets to live on an Air Force base over the summer and learn about the day to day operations of the units at that base. One of our cadets recently went to Andrews Air Force Base, and she talks about her experience below. OPS Air Force is perfect for cadets who want to explore different AFSCs by learning more about various careers while staying on a base in the US. Most of the program is about having face-to-face interactions with both enlisted members and officers of lots of career fields. 
OPS Air Force: Andrews Air Force Base
At Andrews AFB we explored careers such as Aerospace Physiology, Logistics, Cyber, Explosive Ordnance Disposal (EOD), Judge Advocate General's Corps (JAGs), Operations of Special Investigation (OSI), and Security Forces. Each career introduction included a briefing and an  activity or demonstration such as Aerospace Physiology which had a pressure chamber to test hypoxia symptoms. We were shown a military courtroom JAGs use, EOD had fully functioning robots we practiced with, and at Security forces we saw dog training. We also got to visit the pentagon and Joint Base Anacostia-Bolling because we were nearby.
As a cadet without a specific job in mind, I was able to ask lots of questions, show interest in each field, and expand my perception of what life could look like as an officer. In our downtime, our group of about 20 cadets was able to explore Washington DC, work out, and bond. Overall, this experience solidified my motivations for ROTC and gave me concrete ideas of what life in the military will look like. If you are interested in OPS AirForce, make sure you capitalize on the opportunity, initiate conversation, show a willingness to learn, and most importantly, volunteer. I made sure to volunteer for practically everything and by the end of the week, I rode in a Bell UH-1 Iroquois (nicknamed "Huey")! 
One of the activities at the EOD demo, was to put on a bomb suit, walk over and try to gain more information on "the bomb" (pictured below). We looked at an x-ray of "the bomb" before I put on the suit to investigate more. It was obvious there was something inside. The suit was extremely heavy and all the EOD personnel had lots of fun making us do pushups and pull-ups while wearing it. The other activity, was a challenge to move a "bomb" from point A to point B only using rope and pulleys without it "exploding". We had a great time completing the challenge and enjoyed speaking with some of the men from the EOD unit.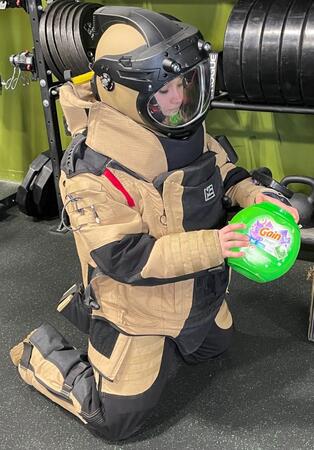 After defusing bombs at the EOD unit, we were taught how to use batons during the Security Forces demonstration. We practiced on cushions and then trained with a person in a red suit called "the red man" who moves and fights back. We learned how to strike someone that wasn't backing down, yelling "Get Back" over and over. The matches were each at least 2 minutes long – simulating a situation where backup doesn't arrive.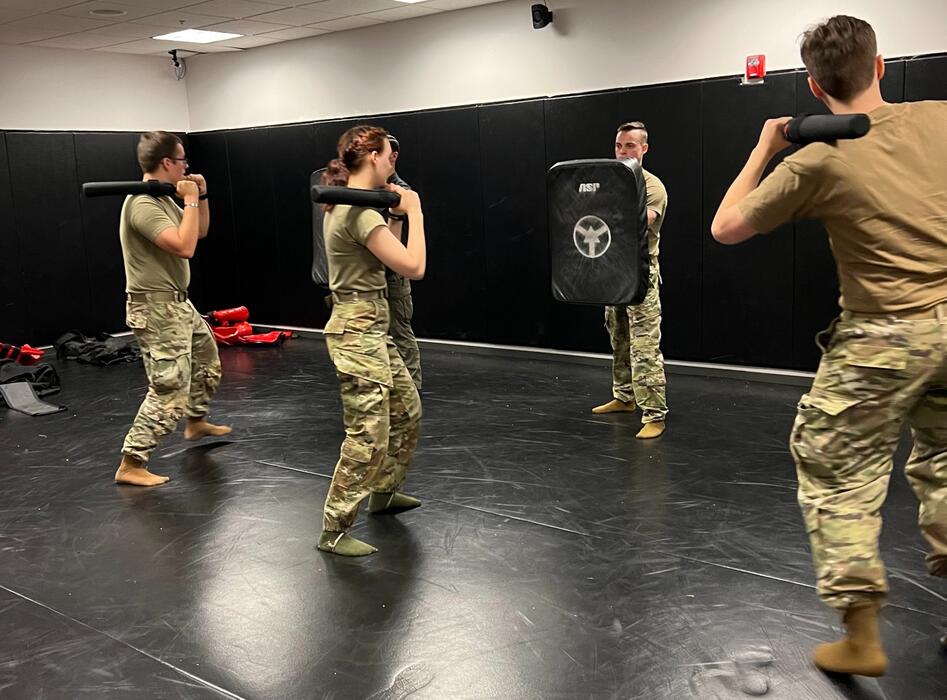 During our visit to Aerospace Physiology I volunteered to be spun in a chair with goggles on and point my thumbs in the direction in which I thought I was spinning. As you can guess there was lots of spinning right and left and me getting confused. A lot of the tools they had at Aerospace Physiology were used to simulate what it feels like to be disorientated in an airplane, and it was very neat to learn about.
Overall, it was a fantastic experience, and I really enjoyed meeting everyone at Andrews Air Force Base!